Among all types of federal offenses, child pornography inherently elicits the most visceral reaction. As the Internet and other technologies have allowed greater access to videos and photographs of child pornography, detection and prosecution has increased, with states and the federal government devoting substantial resources toward the investigation and prosecution of such offenses. Since the mid-1990s, referrals, prosecutions, and convictions for ...
By Alan Ellis, Todd Bussert, and J. Michael Henderson Approximately 94 percent of all federal criminal defendants plead guilty. Seventy-five percent of individuals who proceed to trial are convicted. Accordingly, there is a 97 percent chance that a person charged with a federal crime will ultimately face a judge for purposes of sentencing. For most, "How much time an I going ...
By Alan Ellis and Tess Lopez In fall 2009, a client was facing sentencing in a small town after a lengthy trial. Not only was he facing sentencing in a case that had attracted national attention, he also faced an unsympathetic local community as well as an antagonistic press. It was clear to our defense team that a unique approach was ...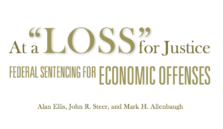 By Alan Ellis, John R. Steer, and Mark H. Allenbaugh According to the United States Sentencing Com- mission data, economic offenses—which include larceny, fraud, and nonfraud white-collar offenses—now constitute the third largest portion of the federal criminal docket, with drug offenses holding second place and immigration rst. (See US Sentencing Comm'n, Sourcebook of Federal Sentencing Statistics table. A (2009).) Such offenses ...
Alan Ellis interviews Tess Lopez, a former U.S. probation officer for the Northern District of California in San Francisco. For 13 years, she specialized in presentence investigations. In 2005, she took her expertise in the area of sentencing to the private sector and is now a mitigation specialist with a national practice. Click to read the full ...