Approximately 97% of all federal criminal defendants plead guilty. Of those who proceed to trial, 75% are convicted. Almost 99% will ultimately be sentenced. Over 87% will be sentenced to prison. Thus, for most offenders "How much time am I going to do?","Where am I going to do it?" and "How soon am I going to get home?" are the three key concerns. The following tips are offered in an effort to secure the lowest possible sentence.
Below-guideline variance sentences are on the rise, while sentences within the guidelines continue to decrease. According to statistics compiled by the U.S. Sentencing Commission since Booker, non-government-sponsored (e.g., non-§5K1.1 departures) the number of below-guideline sentences imposed increased from 12% of all sentences in 2006 to 20.8% in 2014.
The increase in below-guideline sentences is even more dramatic when looking at particular offense categories. For example, non-government-sponsored below-guideline sentences for child pornography offenses—perhaps the most controversial of all types of guideline sentences—have more than doubled from only 20.8% of all such sentences imposed in 2006 to 43.6% in 2014. Fraud offenders constitute nearly 10% of the overall federal sentencing caseload–the fourth largest of all major offense categories (behind Immigration, Drug Trafficking, and Firearms).
The courts sentenced below the guideline range on their initiative 28.4% of the time—a rate that has nearly doubled from 15.8% in 2006. The chart below shows the trends for non-government-sponsored below-guidelines sentences in the top five offense categories, as well as the trend for sentences overall.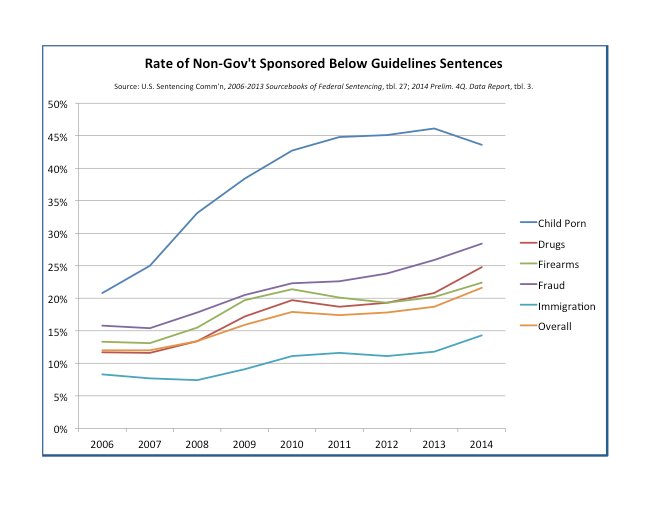 A prison sentence need not be served in prison. Judges sometimes impose a split sentence, that is, a sentence that combines incarceration and home confinement.
Zone C of the Federal Sentencing Guidelines Table allows a judge to impose a split sentence with guideline ranges 10-16 months or 12-18 months. The period of incarceration will likely be served in a federal prison camp. In some cases, however, an offender may be designated by the Bureau of Prisons to serve the sentence in a detention facility's Work Cadre Program.
To ensure that the client does not have to be incarcerated in a federal prison camp, let alone a detention facility which houses all sorts of inmates, suggest that a sentence of probation or time served plus supervised release conditioned upon the same amount of time in a Residential Reentry Center (RRC) be imposed. You may even want to suggest more time in the RRC than called for by the guidelines, or a period of additional home confinement.