BOP policies are complex and difficult to understand--even defense lawyers find them taxing. Clients and families are more often than not lost in the bureaucratic maze of terminology and regulations, and they turn to their lawyers for explanations. This column consolidates the information from the previous articles and adds new information about how inmates with medical needs will be treated ...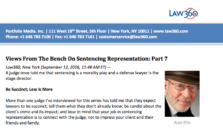 More than one judge I've interviewed for this series has told me that they expect lawyers to be succinct; tell them what they don't already know; be candid about the client's crime and its impact; and bear in mind that your job in sentencing representation is to connect with the judge, not to impress your client and their friends and ...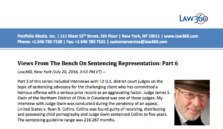 In Part 6 of the Law360 "Views from the Bench on Sentencing" series, I discussed with several judges some of the less traditional federal sentencing factors. Click to read the article.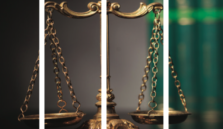 This article is meant to serve as an easy-to-read primer to help lawyers understand federal sentencing. Over 25 years ago, before the Sentencing Guidelines went into effect, a federal judge could, with a few exceptions, sentence a convicted defendant to anything from probation to the statutory maximum. All that changed when the Sentencing Guidelines went ...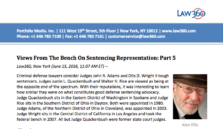 Criminal defense lawyers consider Judges John R. Adams and Otis D. Wright, II, tough sentencers. Judges Justin L. Quackenbush and Walter H. Rice are viewed as being at the opposite end of the spectrum. In Part 5 of this series, I learn how similar they were on what constitutes good sentencing advocacy, despite their reputations. Click to read the ...
By Alan Ellis and J. Michael Henderson INTRODUCTION Pre-release placement refers to the latter stages of a prisoner's sentence, when the Bureau of Prisons (BOP) begins to prepare the prisoner for reintegration into society through home confinement and/or designation to a halfway house (also known as Residential Reentry Center (RRC), formerly known as Community Corrections Center). The general purpose of pre-release placement ...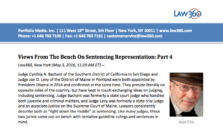 Judge Cynthia A. Bashant of the Southern District of California in San Diego and Judge Jon D. Levy of the District of Maine in Portland were both appointed by President Obama in 2014 and confirmed at the same time. Lawyers consistently describe both as "right down the middle" at sentencing. Read the information they shared in an interview for Part ...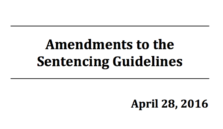 This compilation contains unofficial text of amendments to the sentencing guidelines, policy statements, and commentary submitted to Congress, and is provided only for the convenience of the user. Official text of the amendment can be found on the Commission's website at www.ussc.gov and will appear in a forthcoming edition of the Federal Register. Click ...
By Alan Ellis and Mark H. Allenbaugh On April 15, 2016, following last year's important amendments to relevant conduct, mitigating role and the loss table in the fraud guidelines, the U.S. Sentencing Commission voted to continue to make fundamentally fixes to the Sentencing Guidelines, which have long been in need of repair. These fixes will become final on November 1, 2016, ...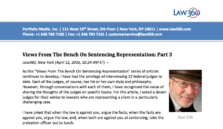 As the third part of the Law360 "Views From The Bench On Sentencing Representation" series of articles continues to develop, I have had the privilege of interviewing 12 federal judges to date. Through conversations with each of them, I have recognized the value of sharing the thoughts of the judges on specific topics. For this article, I asked the judges ...