In this article published by Bloomberg Law White Collar Crime Report, Alan Ellis and Mark Allenbaugh discuss the proposed amendment to the U.S. Sentencing Guidelines regarding acceptance of responsibility and challenging relevant conduct. Ellis and Allenbaugh argue that any revised commentary to U.S.S.G. § 3E1.1 should make clear that challenges to relevant conduct, as well as arguments in favor of ...
Attorneys Alan Ellis and Karen L. Landau discuss ways in which federal criminal defendants, who have been convicted of a crime, either after a guilty plea or a trial, may challenge a conviction or sentence. The article, which first appeared in the Criminal Justice, Spring 2002 Edition, answers the following questions: Who is entitled to a direct appeal? What issues ...
Attorney Alan Ellis and Todd Bussert outline areas about which defense counsel should be aware in order to afford clients the greatest opportunity for post conviction relief. In this article, originally published in Criminal Justice, Volume 25, Number 1, Spring 2010 by the American Bar Association, they explore ethical constraints on defense counsel's ability to advise clients and to shield ...
Attorneys Alan Ellis and James H. Feldman, Jr. discuss how the §2255 and §2241 motions are applied to prisoners in custody to vacate their convictions or sentences. Originally published by the National Association of Criminal defense Lawyers, the article answers the following questions: Who can file a §2255 motion? What issues can be raised in a §2255 motion? How does ...
Attorney Allan Ellis discusses the the four-level scale the Bureau of Prisons (BOP) employs in the designation process that seeks to correlate prisoners' perceived medical needs to resources, both at institutions and in their corresponding communities. Learn more about the criteria the BOP uses to determine how federal inmates are classified into the four medical levels and how community medical ...
Attorney Alan Ellis and J. Michael Henderson share questions and answers commonly asked when offenders enter the federal prison system. Supplemental information is provided by Phillip S. Wise, retired Bureau of Prisons Assistant Director, Health Services Division. Questions include: Will each offender be placed at a particular federal prison of their choice, and close to their family? If an offender is ...
For the past two years, in a series for Law360's White Collar Expert Analysis column, Alan Ellis has interviewed nearly 25 federal judges and reported their views on  effective sentencing advocacy. In this new series, Mr. Ellis will share Bureau of Prison information and practice tips for lawyers and their clients. In addition to highlighting successful tips from his own ...
Earlier this year, Alan Ellis interviewed Elliot Atkins, Ed.D., a noted forensic psychologist. The highlights of the interview are included in this article, which is intended to provide defense counsel with strategies for more effectively educating the Court about the client whose mental and emotional functioning may have contributed to the commission of the offense. A substantially similar version of this ...
For the past year and a half, Alan Ellis has interviewed almost two dozen federal judges, discussing with them their philosophies on and advice for lawyers representing clients at federal sentencing. Mr. Ellis saw a pattern across the viewpoints of the judges: they are not getting the information they need during the sentencing phase of a case. Some of the ...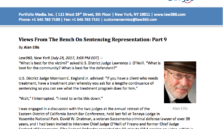 Part 9 of the Law360 series provides insights from an in-person interview conducted with two judges at the annual Eastern District of California Bench Bar Conference, held last fall. David W. Dratman, a veteran Sacramento criminal defense lawyer of over 39 years, and Alan Ellis had been invited to interview Chief Judge O'Neill of Fresno and former Chief Judge England ...