Federal sentencing and prison experts Alan Ellis, Mark Allenbaugh, and Nellie Torres Klein continue their look at the First Step Act of 2018, a new bipartisan federal prison reform law. In Part 3 of this three-part series, they examine the pilot program offering early release and expanded home confinement to elderly and terminally ill prisoners.
Most lawyers are understandably unable to advise a first-time federal inmate as to what it will be like in prison. Rarely do they ever get beyond an attorney visiting room. In this four-part series of articles, we, the co-authors of "Federal Prison Guidebook," with the help of Philip S. Wise, retired Bureau of Prisons assistant director of heath services, offer ...
Inmates often say that 99 percent of lawyers don't know the first thing about the Bureau of Prisons and the 1 percent who do are all doing time themselves. Understanding these practice tips, published in BNA's Bloomberg Law, will decrease the 99 percent number. Read the article here.
The federal presentence investigation report (PSR) is the document most heavily relied on by a judge in imposing sentence—particularly in those cases where a guilty plea has been entered and the court knows little about the defendant. It also is the document that the Federal Bureau of Prisons (BOP) relies on in making designations and placements and many other decisions ...
Attorney Allan Ellis discusses the the four-level scale the Bureau of Prisons (BOP) employs in the designation process that seeks to correlate prisoners' perceived medical needs to resources, both at institutions and in their corresponding communities. Learn more about the criteria the BOP uses to determine how federal inmates are classified into the four medical levels and how community medical ...
Have you ever encountered sentencing judges reluctant to direct the probation officer to make corrections to errors in the final Presentence Investigation Report? The same thing—and sometimes with even better results—can be accomplished by asking the judge to issue a Statement of Reasons. Click to read the article.
By Alan Ellis and Mark Allenbaugh Published by The National Trial Lawyers, April 13, 2017. Reprinted with permission. Bureau of Prisons policies are complex and difficult to understand—even defense lawyers find them taxing particularly so when it comes to medical and mental health issues. Clients and families are more often than not lost in the bureaucratic maze of ...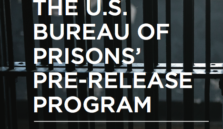 Alan Ellis and Michael Henderson share the ins and outs of the Bureau of Prison's Pre-Release Program in this article published in Criminal Justice, Winter 2017. Click to read the full article.