Shanghai, China International Criminal Attorney
Mandarin and Cantonese Interpreter Available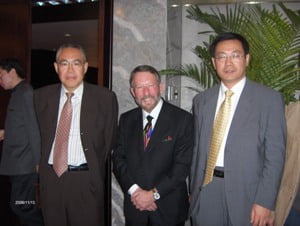 Alan Ellis with Xu Jiali (left) and Frank Zhang (right) of the Longen Law Firm of which Mr. Ellis is Foreign Legal Council in it's Shanghai office.
Alan Ellis, Past President of the National Association of Criminal Defense Lawyers, is a former Fulbright Visiting Professor of Law at the Shanghai, Jiaotong University, School of Law in Shanghai, China. Mr. Ellis was awarded this coveted Fulbright grant by the U.S. State Department. A Fulbright award confers special status on winners during their year of foreign teaching, as outstanding, officially-recognized representatives of the United States. It is one of the most honored award programs worldwide. More Fulbright alumni have won Nobel Prizes than tfhose of any other academic program. Mr. Ellis has lectured throughout China on behalf of the United States State Department the American Bill of Rights.
At their San Francisco home in May of 2007, Mr. Ellis and his wife, Jie Zheng, hosted a delegation of Chinese Supreme Peoples' Court judges who were visiting the United States on a comparative law tour. Alan Ellis is an internationally recognized attorney who has been described by Federal Lawyer Magazine as "one of this country's pre-eminent criminal defense lawyers." The San Francisco affiliate of ABC-TV has stated that he is "the best in the business." Asian Legal Business noted his becoming Foreign Legal Counsel for Longan Law Firm.
If you, or an employee or your company, or the company, itself, have been charged with committing a crime, contact criminal defense attorney Alan Ellis today. Mr. Ellis will evaluate your case and discuss the legal options available to you. All consultations are completely confidential.
Increased trade and expanding business relations between the United States and foreign countries has resulted in new legislation and laws governing trade, compliance issues, intellectual property violations, taxation and immigration. As a result, foreign nationals and companies sometimes find themselves in violation of American law, often without fully realizing why or what is involved. Language and cultural differences serve to exacerbate these problems. Because the cultural, language, and legal differences between foreign business people, American and foreign companies may not be aware that they have violated the law until they are acing serious criminal charges and severe financial penalties. For example, on August 14, 2008 President Bush signed the "Consumer Product Safety Improvement Act of 2008" into law after it had passed the House and Senate by overwhelming margins.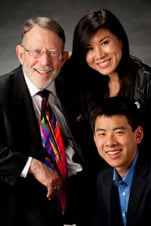 The Ellis Family
The Law Offices of Alan Ellis represents foreign nationals and companies who have been charged with committing the following kinds of crime:
Consumer product safety violations
Intellectual property and trademark infringement
Violations of immigration laws
Bribery
Embezzlement
Antitrust violations
Money laundering
Tax offenses
With his international expertise, Mr. Ellis can help American and foreign clients with:
Foreign Corrupt Practices Act violations
Foreign crimes or offenses
Extradition
Prisoner Transfer Treaties
The Chinese Longan Law Firm and the Law Offices of Alan Ellis
Mr. Ellis also serves as Foreign Legal Counsel for the Chinese Longan Law Firm located in Shanghai, China, with satellite offices throughout China. As Foreign Legal Counsel, Mr. Ellis represents Chinese nationals and Chinese businesses charged with crimes in the United States.  He also assists individuals and businesses interested in and currently doing business in China by facilitating their introduction to and coordinating their relationship with the Longan Law Firm.
Established in 1992, Longan Law Firm is one of the four oldest private law firms in China. Founded by Xu Jiali, former member of the Chinese Supreme People's  Procuratorate aand Jason Lee, then Law Clerk to the Chief Justice of the Chinese Supreme People's Court, Longan Law Firm has nearly 200 attorneys and over 150 supporting staffs across China with seven offices in Beijing, Shanghai, Shenzhen, Shenyang, Nanjing, Guangzhou & Hong Kong. English is the law firm's second language and many of the attorneys have law degrees from American, Canadian, British, and Australian law schools. Longan Law Firm maintains close contacts and strong working relationships with the Chinese government, regulatory agencies and financial institutions. Its position as a truly Chinese law firm has benefitted its international clients who use the law firm as a direct and effective method to securing their business and interest buy ambien online in the Chinese market.
For additional information, please call me in my San Francisco, California office from the western United States or abroad at 415-895-5076 or my New York office at 212 256 9775 from the eastern United States or fill out the online intake form.
Click here to read:
Alan Ellis Biography (Chinese) (PDF)
"Alan Ellis: The Bill of Rights and The Training of Chinese Lawyers," January 29, 2010
"New Foreign Legal Counsel for Longan," ALB Legal News, 18 March 2009 (PDF)
"Tiburon Lawyer Sees Progress in China," Marin Independent Journal, August 22, 2008 (PDF)
"A Sporting Chance,"  San Francisco Recorder, April 8, 2008