[imageeffect image="429″ width="476″ target="_self"]
Nearly 95 percent of all federal criminal defendants will plead guilty. Of the remaining 5 percent who go to trial, as many as 75 percent will be convicted. Thus, nearly 99 percent of all federal criminal defendants will be sentenced. Of that number, 80 percent of defendants will receive jail or prison time.
A National Federal Post-Conviction Lawyer
Alan Ellis is a nationally recognized attorney who has been described as:
"One of this country's pre-eminent criminal defense lawyers." — Federal Lawyer Magazine
A "nationally-recognized expert in federal criminal sentencing." — The United States Court of Appeals for the Ninth Circuit
"The best in the business." — The San Francisco affiliate of ABC-TV
"The go-to guy in America for Federal Sentencing if you're in deep trouble." — Verdict Magazine
Contact Mr. Ellis, a San Francisco federal criminal defense attorney, to discuss your charges, sentencing or prison issues. Mr. Ellis represents clients nationwide and abroad from offices in the San Francisco Bay Area, and New York.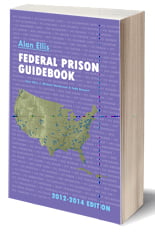 Federal Prison GuidebookThe Federal Prison Guidebook: 2013-2014 Edition
By Alan Ellis, J. Michael Henderson and Todd Bussert
Click here to learn more about the guidebook >>
Click here to order
Taking Clients Directly and From Referrals
Approximately one-third of Mr. Ellis' work comes to him from defense attorneys requesting his assistance. Another one-third comes to him from clients, their family or friends who are currently represented by counsel. Many of these individuals are pleased with their attorneys and simply want him to consult with them to ensure the best possible result. Some, however, are concerned with the performance, ability or skills of their current attorney and want Mr. Ellis' advice, second opinion or his representation. The final third of his clientele come to him directly.
With increasing frequency, Mr. Ellis is being called upon to consult and assist earlier in the criminal defense process. This is due in no small part to the importance of plea bargaining and the significant recognition that planning and preparation for sentencing, prison placement and post-conviction remedies must not be relegated to the post-verdict or post-plea stage of the proceedings.
Practice Areas
The firm helps clients with a range of post-conviction, sentencing and prison issues, including:
Experienced Legal Team of Criminal Justice Experts
Affiliated with the firm are four of-counsel attorneys,  three mitigation specialists, two of whom are former United States Probation Officers, the other is a forensic licensed clinical social worker, and two federal prison consultants formerly employed at a high level by the Bureau of Prisons.
Specifically, we are assisted by two former Federal Bureau of Prisons experts: J. Michael Henderson and Phillip S. Wise. As a former BOP Regional Designator for the Western Region, Mr. Henderson has made invaluable contributions to our firm over the years, co-authoring numerous articles and advising counsel on BOP practices. He has extensive career experience in the Bureau of Prisons, including oversight for the Federal Bureau of Prisons classification and designation and newly-sentenced federal offenders in the western United States, and helping to revise tfhe BOP's classification and designation policy and practices. Mr. Henderson held other positions during his career, including Federal Detention center administrator and correctional programs Specialist in two of the Bureau's six regional offices. He has received special recognition and awards for accomplishments during his tenure.
With 25 years of experience with the BOP, Phillip S. Wise serves as a Federal Bureau of Prisons medical consultant to our firm and often advises other attorneys on BOP medical issues. As a former Assistant Director of the BOP, he was primarily responsible for formulating health care policies for the Bureau, including physical and mental health care as well as female inmate issues. Until his retirement in 2002, Mr. Wise served as the Assistant Director of the Federal Bureau of Prisons, with responsibility for Health Care for the agency. In this position, he was responsible for the formulation and implementation of health care policies for the agency and served as a member of the Executive Staff. Prior to that, Mr. Wise also served as the Warden of the Federal Medical Center in Rochester canadarxcenter.com, Minnesota, and as the Warden of the Women's Federal Prison Camp at Alderson, West Virginia. With this unique experience, Mr. Wise consults on female inmates' issues for the firm.
From offices in the San Francisco Bay Area, New York, Mr. Ellis represents clients nationwide and abroad. Contact the firm's San Francisco, California, office at 415-256-9775 or the New York office at 212-252-9775.
We provide an initial telephone consultation at a nominal fee, which includes a review of relevant documents.