[vc_row][vc_column width="1/1″][vc_column_text]
The Federal Post-Conviction Guidebook: A Primer for Attorneys and Defendants, Family and Friends
By Alan Ellis, James H. Feldman, Jr., and Karen L. Landau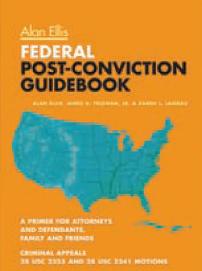 In the majority of federal criminal cases (94%), defendants plead guilty without having a trial. In federal criminal cases in which there is a trial, 75% of those charged are found guilty and 80% are sentenced to federal prison.
For defendants facing and convicted of federal criminal offenses- and for their concerned family members – it's vitally important that they understand the federal criminal process of appeals and Habeas Corpus 2255 motions. Plea agreements often include stipulations that can affect a defendant's right to appeal.
While every defense attorney handling a federal criminal case will talk with clients about the options for their defense in the initial trial and in appeals, it's often helpful for clients and their families to have written information that they can review. As such, the Federal Post-Conviction Guidebook is an indespensible tool and is FREE.
About Co-Author Alan Ellis
Attorney Alan Ellis focuses his law practice on federal sentencing prison and post-conviction work for clients facing criminal charges. With more than 40 years of criminal defense experience, Mr. Ellis has been acknowledged as a "nationally-recognized expert in federal criminal sentencing" in a published opinion decision of the United States Court of Appeals for the Ninth Circuit. He is also a co-author of the Federal Prison Guidebook, and the Federal Sentencing Guidebook.
About the Federal Post-Conviction Guidebook
In its brief, concise 36 pages, the Federal Post-Conviction Guidebook covers the following topics related to direct appeals and Habeas Corpus 2255:
The difference between a direct appeal, a motion and a petition
The kinds of legal issues that can be raised with each
The results that are possible from each action and the obstacles defendants face
A description of the process
How each is initiated, time limits and likely duration of the process
Contact the Law Offices of Alan Ellis
With offices in San Francisco, California, New York City, and Shanghai, China, attorney Ellis consults with federal criminal defense attorneys and clients and their families.[/vc_column_text][/vc_column][/vc_row]