[vc_row][vc_column width="1/1″][vc_column_text]
Federal Criminal Defense Lawyer For Chinese Nationals
Mandarin and Cantonese Interpreter Available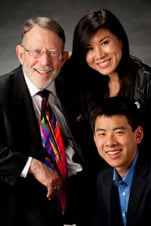 The Ellis Family
The Law Offices of Alan Ellis represents Chinese nationals facing federal criminal charges. Alan Ellis has more than 40 years of experience and is recognized for his successful work in federal criminal defense. He brings this experience to all areas of his practice, including white collar crime, federal drug crime and pornography defense.
Mr. Ellis has strong connections to China and the Chinese culture, heritage and international law. He is a former Fulbright Visiting Professor at the Shanghai, Jiaotong University, School of Law, and has lectured throughout China on American criminal law. In 2007, he and his wife, Jie Zheng, hosted a delegation of Chinese Supreme People's Court judges in a comparative law tour of the U.S. in their San Francisco Bay Area home. Additionally, he has a prominent relationship with the Longan Law Firm in Shanghai, serving as the firm's foreign legal counsel.
Criminal Defense Experience You Can Rely On
If you are Chinese and were charged with a federal crime in the United States, the Law Offices of Alan Ellis can provide experienced representation while being sensitive to your culture and values. We understand your concerns and will guide you through the legal process with a focus on protecting your rights and unique interests as a foreign national. The repercussions of a conviction could be several years in prison, deportation and exclusion from the U.S. Mr. Ellis will work to reduce or even eliminate your federal criminal charges to mitigate the serious consequences you face.
Contact The Law Offices of Alan Ellis
To learn more about how Mr. Ellis can help you or a family member with federal criminal charge, please call his California office at 415-895-5076 or his New York office at 212-256-9775. You may also contact his federal criminal law office online. The Law Offices of Alan Ellis represents Chinese nationals throughout the United States and welcomes inquiries from attorneys abroad.