The U.S. Sentencing Commission Votes for Fundamental Fixes to the Sentencing Guidelines – Part II
by Alan Ellis and Mark H. Allenbaugh
This is the second newsletter in a four-part series regarding the April 9, 2015, vote by the U.S. Sentencing Commission to fundamentally fix some portions of the U.S. Sentencing Guidelines. These fixes will become final on November 1, 2015 if both Houses of Congress do not act to the contrary. The prior newsletter reviewed Jointly Undertaking Criminal Activity and Mitigating Role. This newsletter reviews the Inflationary Adjustments to the Loss and Fine Tables, as well as changes to the definition of Sophisticated Means. The next newsletter in this series will address Intended Loss, Number-of-Victims Table, and Securities Fraud. And the final newsletter will discuss the difference between Clarifying Amendments and Substantive Amendments. In short, making the changes work for you.
Inflationary Adjustments
This proposed amendment adjusts monetary tables in the Guidelines to account for inflation. Specifically, the proposed amendment sets forth an approach for amending the monetary tables in the Guidelines to adjust for inflation, i.e., the tables in §§2B1.1 (Theft, Property, Destruction, and Fraud), 2B2.1 (Burglary), 2B3.1 (Robbery), 2R1.1 (Bid-Rigging, Price-Fixing, or Market-Allocation Agreements Among Competitors), 2T4.1 (Tax Table), 5E1.2 (Fines for Individual Defendants), and 8C2.4 (Base Fine). The fraud-loss table at USSG §2B1.1(b)(1) and tax loss table USSG §2T4.1 now have had their respective limits increased, which can serve to mitigate punishment.
For example, under the current iteration of the guidelines, a fraud loss amount of $500,000 will result in an offense level increase of +14. However, come November 1, 2015, the same loss amount will only result in an increase of +12. This is the final table for USSG §2B1.1(b)(1).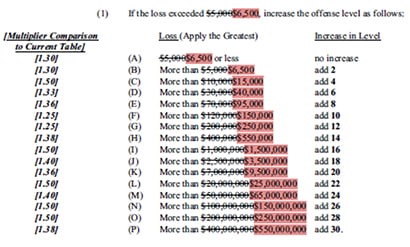 This is a substantive amendment, which will apply to sentences imposed on or after November 1, 2015, assuming that both Houses of Congress do not vote down the proposed amendments. As we noted in Part 1, this has only happened four times in the history of the Sentencing Commission and that involved drug offenses. Accordingly, counsel in appropriate cases may be wise to attempt to have sentencings postponed until after November 1, or to seek a variance.
But what the Commission giveth, it also taketh away. In addition to adjusting the loss tables for inflation, which has a mitigating effect, the fine tables also have been adjusted, which has a significant punitive effect. Indeed, the fine ranges now are approximately doubled. Practitioners, therefore, should be aware of this new, onerous modification, and note the built-in ex post facto limitation stated within the table itself. The revised fine table for individuals, with the "special instruction," is below: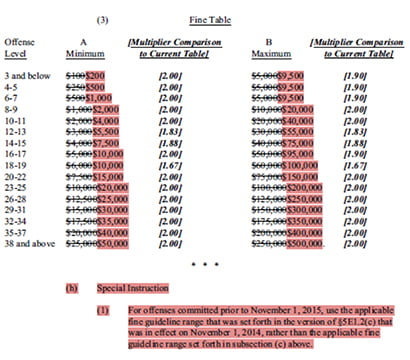 Sophisticated Means
Section 2B1.1(b)(10)(C) provides for a two-level enhancement if "the offense . . . involved sophisticated means." Per the commentary to that guideline, "'sophisticated means' means especially complex or especially intricate offense conduct pertaining to the execution or concealment of an offense." USSG §2B1.1, comment (n.9(B)). According to the latest available Commission statistics, in fiscal year 2013, this enhancement was applied in 11.7% of cases sentenced under 2B1.1. See U.S. Sentencing Comm'n, Use of Guidelines and Specific Offense Characteristics—Guideline Calculation Based 11 (2013).
The existing enhancement applies if "the offense otherwise involved sophisticated means." Using this language, courts have applied this enhancement without a determination of whether the defendant's own conduct was "sophisticated."
The Commission amended USSG §2B1.1(b)(10)(C) to now read that a two-level adjustment is to be applied where "the defendant intentionally engaged in or caused the conduct constituting the sophisticated means." (Emphasis added). According to the Commission, this "amendment narrows the scope of the specific offense characteristics at subsection (b)(10)(C) to cases in which the defendant intentionally engaged in or caused (rather than the offense involved) sophisticated means."
Practitioners should be sure to review PSRs carefully when this enhancement is applied, to be sure it is not applied under the old, broader standard. It is the conduct that the defendant actually engaged in, and not relevant conduct itself, that now serves as a basis for the application of this not-infrequent enhancement.
This is arguably a clarifying amendment. Thus, counsel may wish to argue to the court that it should be applied to sentences to be imposed before November 1, 2015. Alternatively, counsel should, if it would be helpful, attempt to have sentencings continued until after that date, or seek a variance.