Views from the Bench on Sentencing Representation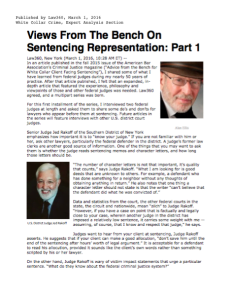 Law360 is publishing a series of articles written by Alan Ellis. For the first installment of the series, Mr. Ellis interviewed two federal judges at length and asked them to share some do's and don'ts for lawyers who appear before them at sentencing.
---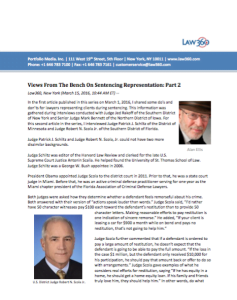 This second article in the series, "Views from the Bench," published in Law360's White Collar Expert Analysis section, shares the views of Judge Schiltz of the District of Minnesota and Judge Scola of the SD of Florida. The judges shared their thoughts on a defendant's remorse, restitution and some of their pet peeves in sentencing proceedings.
---

As this Law360 "Views From The Bench On Sentencing Representation" series of articles continues to develop, I have had the privilege of interviewing 12 federal judges to date. Through conversations with each of them, I have recognized the value of sharing the thoughts of the judges on specific topics. For this article, I asked the judges for their advice to lawyers who are representing a client in a particularly challenging case.
---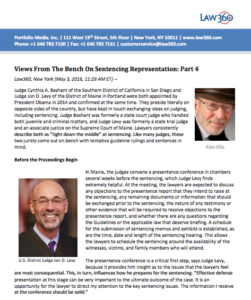 Judge Cynthia A. Bashant of the Southern District of California in San Diego and Judge Jon D. Levy of the District of Maine in Portland were both appointed by President Obama in 2014 and confirmed at the same time. Lawyers consistently describe both as "right down the middle" at sentencing. Read the information they shared in an interview for Part 4 of the Law360 series, "Views from the Bench," published in the White Collar Expert Analysis section.
---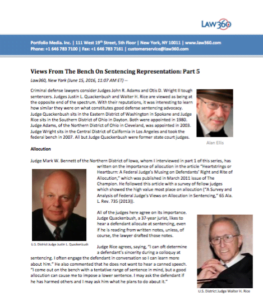 Criminal defense lawyers consider Judges John R. Adams and Otis D. Wright, II, tough sentencers. Judges Justin L. Quackenbush and Walter H. Rice are viewed as being at the opposite end of the spectrum. In Part 5 of this series, I learn how similar they were on what constitutes good sentencing advocacy, despite their reputations.
---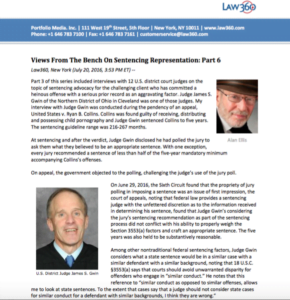 In Part 6 of the Law360 "Views from the Bench on Sentencing" series, I discussed with several judges some of the less traditional federal sentencing factors.
---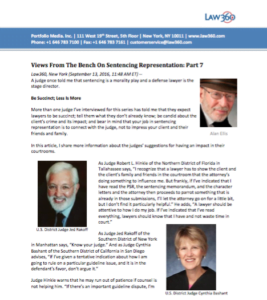 More than one judge I've interviewed for this series has told me that they expect lawyers to be succinct; tell them what they don't already know; be candid about the client's crime and its impact; and bear in mind that your job in sentencing representation is to connect with the judge, not to impress your client and their friends and family.
In this article, I share more information about the judges' suggestions for having an impact in their courtrooms.
---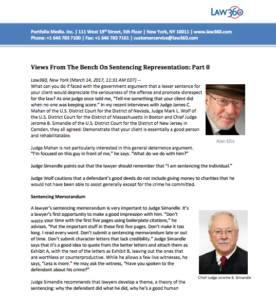 What can you do if faced with the government argument that a lesser sentence for your client would depreciate the seriousness of the offense and promote disrespect for the law? As one judge once told me, "Tell me something that your client did when no one was keeping score."
In my recent interviews for the Law360 "Views from the Bench" series, Judges Mahan, Wolf and Simandle all agreed: Demonstrate that your client is essentially a good person and rehabilitatable.